Recipes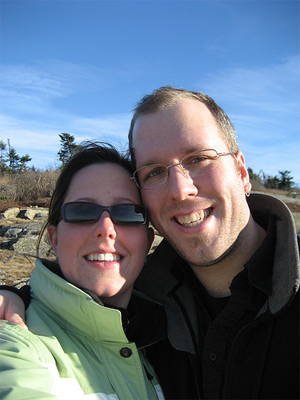 Two components of our wedding dinner were baked by us, friends, and family: the bread and the carrot cake. If you want to recreate these small pieces of our dinner, read on...
Mrs. Shema's Bread
1 1/2 cup sugar
1 can (12 oz) Evaporated Milk
2 cans water
1 tsp. salt
1/2 cup butter
3 pkgs active dry yeast
1/4 cup lukewarm water
1 Tbs. sugar
4 eggs
5+ lbs flour
1 egg and small amount of milk to brush on top of bread
Mix 1 1/2 cup sugar, 1 can Evaporated Milk, 2 cans water, 1 tsp. salt and 1/2 cup butter in saucepan. Heat to scalding then cool to lukewarm. While waiting for mixture to cool....
Dissolve yeast in 1/4 cup lukewarm water with 1 Tbs. sugar. Let sit for 30 minutes. If the yeast has not begun to grow (bubble) in this time, you need a new batch of yeast.
Add dissolved yeast to milk mixture. Mix with spoon. Add 4 eggs. Gradually add 5 lbs. flour and mix. Kneed 500 times and add additional flour until the dough is no longer sticky but elastic.
Let rise (~1 hour).
Divide into pan sizes. Spray pans with Pam. Let rise in pans (~45 minutes).
Bake at 350 degrees for 20 minutes. Brush tops with eggs and milk mixture. Bake another 25 minutes. Immediately remove from pans.
Yields ~8 loaves.
Grandmom's Carrot Cake with Cream Cheese Icing
10 servings 25 min preparation 40-60 min baking 9" round or square pan
2 c All-purpose flour
2 t ground cinnamon
1 t baking powder
1/4 t salt
2/3 c butter softened
1 c granulate sugar
3 eggs
2/3 c milk
3 med carrots, grated
1/2 c chopped pecans
Icing
1/2 c (1 stick) butter
4 oz cream cheese (Grandmom uses 8 oz)
1 t vanilla
2 1/2 c confection sugar
Topping
1/4 c. chopped pecans
2 T firmly packed brown sugar
Directions:
1. Preheat oven to 350 degrees. Grease cake pan and dust with flour. Also line bottom with wax paper.
2. Mix together flour, cinnamon, baking powder and salt
3. Beat together butter and sugar at med. speed until light and fluffy. Add eggs, one at a time, beating well after each addition. At low speed, alternating beat flour mixture and milk into butter mixture. Stir in carrots and nuts. Pour into prepared pan.
4. Bake cake until top springs back when lightly touched and a toothpick in center comes out clean. ( 40 min. - mostly 60 min for Grandmom) Transfer pan to wire rack to cool for 10 min. then turn cake out onto rack to cool.
5. Pepare icing - beat together butter and cream cheese at med. speed until completely smooth. Beat in vanilla. Beat in confectioners sugar until well blended. To prepare topping mix together nuts and brown sugar. Spread icing over cake and sprinkle with nut mixture.
Grandmom's comment : "Hope you don't believe that preparation time it says in the beginning!"